First things first, I love autobiographies. I will read the autobiography of anyone I find interesting or who I want to know more about. I find people's own take on their lives, achievements and failures fascinating.  
Secondly, lockdown has given me the time and space to read more. After staring intently at a screen all day I rarely fancy spending my evening starring at the bigger one downstairs so I have been on the hunt for some autobiographies to get into.
I am such a nerd that I pre-ordered my copy of 'Not Just Politics' and whilst waiting for it to arrive I got stuck into Louis Theroux's 'Gotta get Theroux this: My life and strange times in television'. This was possibly a little unfair on Carwyn as it was always going to be unlikely that his life and times in Welsh politics were going to be a as crazy and exciting as a man who made a career out of being fascinated by the "weird".
That said there were some similar themes – they both clearly love their wives (not ground breaking I know) writing about them with great affection, they both had rather formative times at University (who doesn't?) and they both have an opinion on Neil Hamilton (don't we all?!). However, the similarities end there.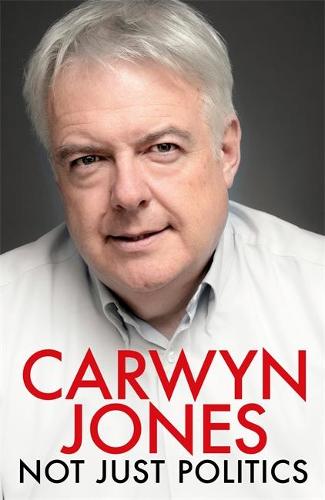 'Not Just Politics' isn't a big book, which is refreshing for a political memoir. It is short, pacey, and easy to read. I read the first half in one sitting and was entertained and interested throughout. In fact at some points it went so fast I found myself Googling the dates of key Welsh events to confirm that they had been missed out.
Naturally, the first page starts with the 1984 miners strike with Carwyn's reflections on the period, the impact of mining on south Wales and how the "injustice of the whole situation made a lasting impression". It would hardly be a Welsh Labour politician's memoir without such a start.
The importance of family and Carwyn's place in it is clear from the off. He speaks with great pride about his deep Welsh roots. He talks with fondness for relatives he never knew or died when he was young and the impact his family's history had on him. At points the deep dive into his family tree read like an essay proving how Welsh he is, which I found a little unnecessary, but I'll put it down to his pride in his heritage and family.
Running through the book is a strong family thread. The sections discussing the challenges of his wife's poor health, and his daughter's teenage years where sensitivity and emotionally written. They certainly helped the reader to see him as a person – rather than purely a politician – whilst not feeling too intrusive on his wife and daughter's privacy.
The flow of the personal and political works well and feels natural, whilst being peppered with humour and a good number of exclamation marks! The flow generally is good and there is a pace throughout the book with very little time taken to dwell. The notable exceptions are made for big events that put Wales on the world stage such as the 2010 Ryder Cup or the 2014 NATO visit.  
In fact my biggest disappointment was that so much was just touched on. There was rarely a deep dive in to any decision, legislation or political challenge – apart from the tragic death of Carl Sargeant – this surprised me. Given the audience for this book, one might expect more than a passing comment on the legislation his Government passed. In fact there was more word count given to his annoyance at the UK Government challenging the legal competency of Welsh legislation than what it was actually about and why it was a positive change for Wales.  
This was particularly disappointing for me as when he did go in to more detail on a situation faced – for example the foot and mouth crisis when he was a young Minister – the writing was intelligent, insightful, and interesting.
Carwyn is clearly proud of the work his administration did in promoting Wales around the world and it was good to hear him fighting for an outward looking Wales. But I think for the majority of readers they would have appreciated more reflections on the situation and challenges he faced at home rather than abroad.
In my experience most political autobiographies have some sections added, not for their value as an anecdote, but to clear up some 'misunderstandings' and tell their 'side'. Jones has a few of these including being very clear about that that time we was accused of snubbing Cameron – FYI he wasn't. The longest and most in detailed part of the whole book was on the period in and around the death of Carl Sargeant. This was understandable and expected.
Carwyn used the pages to tell us everything we read in the papers at the time was rubbish and that, as a feminist, he made the right decisions and dealt with the situation in the best possible way. Unfortunately the tone is rather righteous and, at times, angry, which doesn't paint him in the most favourable light.
His brief reflection on male mental health is welcome but I wish he had spoken about his mental health and its effect on him at other times in his life, rather than only following Carl's sad passing. This would have helped the reader to build sympathy with him as person at such a challenging time.
Throughout the book there were a few editing issues which were a distraction to the content. On a number of occasions something is mentioned and then a few pages or chapter later you are retold this information as if it's not been mentioned before. There is also times when something is mentioned in passing only to be properly explained later – again a bit odd.
Despite its weaknesses it was an easy read and I enjoyed it, but it needed more meat on the bones in certain places to be a truly satisfying auto-biography. If you have an interest in Welsh politics I would still recommend it as the book provides an insight into the man who stood at the front for a key period as Wales' political landscape developed into what we have today.
Mia Rees is the Conservative Councillor for Whitchurch and Tongwynlais on Cardiff Council.