Sam Hall @shall_sam
Wales Coordinator, British Conservation Alliance

Casting my mind back to first year, I remember feeling quiet proud of myself if I made it to my 9am, sauntering down the slopes and steps of Aberystwyth University, and cramming into a lecture theatre for whatever horrific compulsory modules we happened to be studying. Masks were worn by terrorists and hand sanitiser- if I am honest I probably only ever bought it a handful of times before the present situation. Afterwards you might have a cheeky pint in the SU, scurry off to the Library for a book, or grab some lunch. Then, part way through my second year, university life was upended. Everything moved suddenly online after we all scrambled to get home for lockdown. Clubs and societies existed only in name. University leadership meanwhile tried to decide what to do with the unfolding situation.
Now here I am, 120 miles away from the paternal home, sipping coffee on a beautiful (if cold) autumnal day. It could be an ordinary Sunday on campus (save for the online Holy Mass I watched this morning)- yet it could be an extra-ordinary week. Teaching 'begins' tomorrow so it's high time I gave the lovely locals of Aberystwyth and Ceredigion a peek inside the life we live (or are supposed to) during these turbulent times and answer the questions on everybody's lips- will universities become the care homes of the second wave?
The first thing to note is that people breaking the rules on and around campus are much more obvious than those sticking to them. So, take this with a pinch of salt when I say that I haven't actually observed anyone religiously following the rules. For context, when we arrived, each flat formed a household. In the same way that a person returning from holiday is supposed to self-isolate for two weeks if they come from designated area, we were supposed to do the same. Except this is quite hard when you do not have unique access to a kitchen or a bathroom. The universities' solution? Have us all don masks in the communal areas, a set rota for using the kitchen and telling us to eat alone in our rooms for the first two weeks. I have not actually heard or seen of anybody doing this. Picture yourself as an 18-year-old fresher, giddy with the prospect of freedom and all the opportunities that university life entails. Aberystwyth is a fair journey from almost anywhere. You have just lugged all your paraphernalia into your student flat after having spent a decent chunk of your post-A Level summer in less than ideal circumstances. Are you going to follow the rules of the A3 sheet of paper you were given at check-in? Of course not! I have seen 15-strong groups of people piling out of flats. Mind you, I have also seen locals not bothering to socially distance in town and wearing masks incorrectly. When it comes to following the rules, it is a case of 'let he who is without sin cast the first stone' because if we are all honest, nobody has been 100% compliant.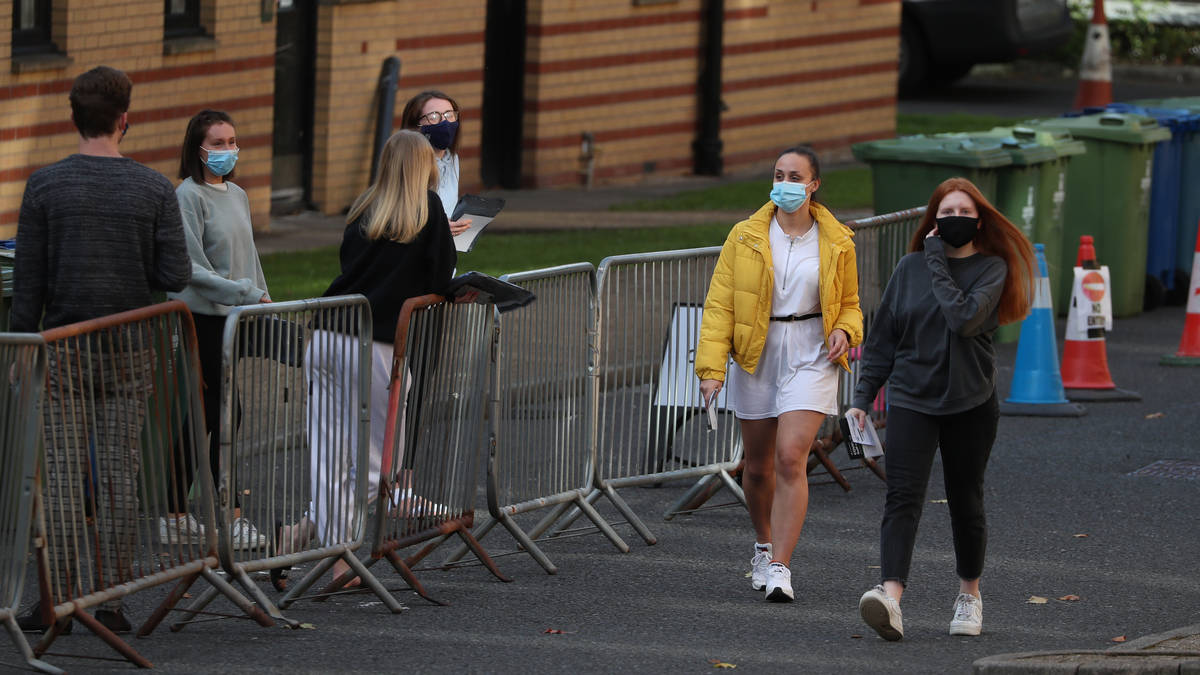 Secondly, I arrived on Wednesday 16th September and lo and behold the first case of COVID-19 in the student community was reported to us all via an email on the 26th September. It does not take a Greek Philosopher to work our why- students across the UK have recently returned to university halls from places all over the UK. I for one have been told that my attendance will be monitored for in-person teaching (a grand total of 23 hours between now and the Christmas break) so I have no real option but to come back. Realistically I would have come back anyway- over the course of my degree I have developed a deep affection for Wales beyond the holiday destination that I knew as a child- but the movement off all these different households to a single place was inevitably going to lead to more infections. In the same way the Eat Out to Help Out was a much-needed boost for the economy it also inevitably boosted the virus. Make no mistake- whatever the health implications of our return might be, we are critical to a local economy that would otherwise be unsustainable outside of the tourist season. But if there's not much face-to-face teaching going on[1], where could students possibly be getting it you may ask?
This leads me neatly on the next part of university life- clubs and societies. The mainstay of any good university experience, they can involve anything from LARPING in the woods dressed as an Elf to competing in Rugby Union at nation-wide events. But equally like any groups with flexible working hours, alcohol tends to be involved. Now we cannot do our mainstay of pub socials with different households mixing in small spaces. Naturally with the limit being up to 30 people outside however, in a beachside town; we all end up on the beach with bonfires -much to the dismay of some locals who would rather we be locked up in our student flats as has happened elsewhere- of course if they'd rather we went to the pub out of their view and got drunk in households I'm sure they wouldn't have a problem with it. But how have societies been told to operate this year?
I'm ideally placed to answer this- I'm President and Captain of Clay Pigeon Shooting (what a Tory novelty) as well as on the committee for the University Conservative Association and CathSoc- three reasons for the Liberal left to hate me! Over the summer all the ordinary committee training that we had to do moved online. In addition to normal years, we have also had to complete some COVID-specific training. Where we can hold events online, we are encouraged to do so. Where we cannot, we must complete a checklist, recording an individual's temperature, their university and username, and then recording the action taken e.g. sent home. That is the general thrust but there are some specifics as well. For example, I cannot allow students to carshare to shoots- which really is not ideal as many would have assumed, quite rightly they did not need to bring their car to university- if they had one at all. The penalty for being found to have broken the rules- suspension of all club or society activity until further notice.
However, in my opinion this strategy may have backfired somewhat. Students are not going to stop being students because of COVID-19; a fact that the Student's Union acknowledged in an email condemning the rise of 'unofficial' events. The effects of the contact tracing app that's now available may now mitigate the effects, but otherwise there was the distinct possibility that students would just ignore the rules, act normally and not participate in the SU's version of test and trace, thus hampering the open and transparent nature that would otherwise be needed to stop the spread of the virus- think about it- pub crawls are banned so instead you organise on off the radar and don't bother to fill in the form, so you don't get found out. Suppose one of your group tests positive. It would not get flagged because otherwise you would be effectively admitting you broke the rules. The group would be suspended. So now you have a potential positive case wandering about that you must hush up. Not ideal. But now we have got the app, the chances of that should hopefully be diminished.
As a final point, how exactly do you police the activity of thousands of students who could be anywhere from the promenade right up to Fferm Penglais? You cannot. I have seen campus security precisely once around my flat since I arrived. As I said at the start people breaking the rules on and around campus are much more obvious than those sticking to them. However, the smart ones are doing it in the numerous hidey holes in the town or the campus. People's flats, smaller pubs, etc. Save from turning the entire town and campus into one massive big brother set, it is impossible to police what we get up to 24/7. That having been said, I for one thing that the university's and the student's union rules would work if the sole aim was to stop the spread of COVID-19 and comply with the law. Unfortunately they failed to account for the single biggest variable- the fact that a small minority of students, having had their summer ruined, working in key roles in the unstable hospitality sector and having a severely curtailed social life in the meantime- don't care. Not to mention that like the rest of us they are confused by the rules that change because this is Wales not England (health is devolved remember), because certain areas of Wales are under local 'lockdown', and depending on your proximity to a card reader. Students are as angry, confused, and frustrated like all of us- but with no-one specific to direct that towards- is it Comrade Drakeford? Is it Boris? Is it university bosses?
Whoever it is, this is an unsettling time to be a student- being told out of the blue that your entire block is in lockdown, being told that all of a sudden all learning will be online, and unhelpful speculations about where you'll be allowed to spend Christmas. Most students are young, and I doubt we will see a high death rate because of that. But where the care homes analogy is most appropriate is constant blame deflection, the fault of students, of devolved government, of central government, of university bosses, etc. There is a level of naivety from the professionals who made the laws in government who have clearly forgotten what it was like to be 18 and constantly pushing the boundaries. This is contrasted with the delicate balance university officials are walking, trying to allow us a quality of life without the virus spreading like wildfire in Aberystwyth and elsewhere. Students, like the care home residents, are simply caught in the middle.
---
[1] As of that Sunday night all in person teaching was suspended indefinitely over two cases in the student community. It gives the impression of naivety on the university's behalf.